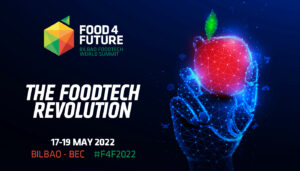 Food 4 Future – Bilbao FoodTech World Summit
EL CLÚSTER COLABORA CON ESTE EVENTO
Technology is increasingly contributing to the journey of food from the farm to the table. The food industry plays a key role in this process. The competitiveness of food industry companies is closely linked to their ability to implement new technologies.
Food 4 Future is the place to be for any professional in the food industry and its value chain, where you can acquire the latest and most promising food technology applications, robotics and automation, data technology or processing techniques.
Food 4 Future aims to be the platform to discover the latest innovations and trends that are driving the transformation of the food industry such as: 4.0 technologies, concern for healthy eating, sustainable and efficient food production, or the fight against climate change.
Food 4 Future will be the platform that annually provides us with the necessary solutions. Be welcome!
VENTAJAS PARA LOS SOCIOS
Exhibidores. Tarifa early bird permanente para socios del Clúster
Premium VIP Pass gratuitas para socios hasta agotar existencias. Después, 50% de descuento.
Business Pass gratuito para socios.
Solicita los códigos en el Clúster.
FECHAS DE INTERÉS