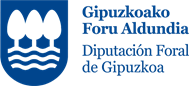 DIPUTACION FORAL DE GIPUZKOA
Diputación Foral de Gipuzkoa - Gipuzkoako Foru Aldundia
*|presencia_internacional|*
Mobility – Passenger

Passenger transport operators

Infrastructure
The Provincial Council of Gipuzkoa is responsible for governing and administering the province of Gipuzkoa. Its President is elected by the General Assembly and is responsible for implementing the programme of the government, which is made up of provincial councillors appointed by the President. The General Assembly is the governing body of the Provincial Council and is responsible for setting the guidelines for and aims of the provincial government's actions.
The Provincial Council has recognised competences as a provincial institution, especially in the areas of finance, economic development, roads and social policies. The General Assembly is the highest public representative and participatory body in the province and takes the form of a parliamentary body consisting of 51 councillors elected by universal suffrage.
The General Council of Gipuzkoa was created in the 16th century. At that time, the Council was made up of procurators designated by the General Assemblies and the council of the municipality in which the Assemblies gathered. Nowadays, the General Assemblies and the Provincial Council of Gipuzkoa are governed by the provisions of the Statute of Autonomy of the Basque Country and the Regional Provinces Act.